Oral Surgery Beverly Hills, MI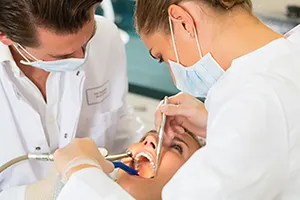 When facial reconstruction, including procedures involving the oral cavity, is called for, a specialist is needed. Surgical procedures of the neck and head area are performed by a maxillofacial or oral surgeon.

Oral and maxillofacial surgeons perform surgeries of the mouth, jaws, and face, including dental implant surgery, bone grafting, wisdom tooth removal, corrective jaw surgery (orthognathic surgery), maxillofacial trauma, TMJ surgery, pathology & reconstruction, and facial cosmetic surgery.

Jaw Correction
Protruding chins, crooked or buck teeth, or misaligned teeth are good candidates for maxillofacial surgery. In some of our patients, jaws do not grow at the same rate; one may come in larger than the other, or simply not be aligned properly with other bony structures in the skull. This can cause problems other than appearance issues; an improperly aligned jaw can cause problems with the tongue and lips, and speech and chewing problems as well. Jaw surgery can move jaws into their proper place.
Other kinds of oral surgery can correct problems with upper facial features such as the nose and cheek. In addition to correcting jaw problems surgically, orthodontic appliances such as braces may be needed to restore the bite relationship and ensure continued proper alignment of the jaw. In some cases, tiny wires or small rubber bands may be needed to keep the jaws in place and promote faster healing. In other cases, small "fixation" screws or plates may need to be inserted into the jaws to facilitate easy movement of the jaws following surgery.

Denture Fatigue
Patients in Beverly Hills who have worn dentures for a long time can sometimes experience loss of gum tissue and even bone, mostly from the wear and tear of the appliance on the soft tissues of their mouth. In extreme cases, maxillofacial surgery, including bone grafts, manipulation of soft tissues, or even jaw realignment, may be performed to correct such problems.


Wisdom Tooth Extraction
Wisdom teeth extractions are a fairly common procedure. Wisdom teeth often cause problems as they are trying to protrude through the gums. When a wisdom tooth is impacted, it means the tooth is coming in at an angle and not straight through the gum line. This can cause pain, the tooth can come in unevenly, or the tooth may only emerge partially.

When a wisdom tooth only emerges partially a flap of skin, called an operculum, may form over the tooth. This can make the tooth hard to clean, and pieces of food may be caught under the skin. This makes it easy for an infection, called pericoronitis, to develop. It will usually go away on its own, but it causes swelling and pain in the area.
Impacted teeth and wisdom teeth that can potentially cause problems, like infections, need to be removed. Extractions can range from a single tooth, to removing all four wisdom teeth at once. Based on the preference of the doctor and/or the patient, a local anesthetic could be used to numb the areas where the teeth will be extracted. Others will prefer to go under a general anesthetic so that they will be sedated during the procedure.
The gum tissue around the wisdom tooth is cut open to reveal the tooth. The tooth is loosened by gripping it tightly and wiggling it back and forth until it can be lifted out of the gums. Sometimes a tooth may be impacted so tightly that it cannot be simply lifted out of the gums. In cases like this the tooth will be broken up into pieces first before being removed. Depending on the incision and extraction site, sutures may be needed to close the area. Soluble sutures are the best option, which will dissolve on their own.
Wisdom Tooth Post-Op Care
After the surgery you will need to rest when you return home, but do not lie flat. This could prolong the bleeding. Prop your head up on a pillow when lying down. Your dentist will prescribe you pain medication, so if you become sore take as directed. You can also use an ice pack for the pain. Your dentist might also provide you with a cleaning solution to clean the extraction site.
You will be limited to soft foods for a few days after your surgery. Some recommended foods are:
Gelatin
Pudding
Yogurt
Mashed Potatoes
Ice Cream
Thin Soups
Other food you can eat without chewing.
When drinking, make sure you do not use a straw. The sucking motion can loosen your sutures and slow the clotting process.


More Oral Surgery Procedures
Extraction Site Preservation
Bone Grafting
Platelet Rich Plasma (PRP)

Orthognathic Surgery
Facial Trauma
Oral Pathology
Sleep Apnea
Invisalign
Clear Braces
Traditional Braces
Night Guards
TMJ

Want to learn more about oral surgery procedures performed by your dentist in Beverly Hills, MI? Call the office of Dr. Keith A. Hudson, DDS, PC today at (248) 530-9812 for more information or to make an appointment.